Featured registry: Brodie & Leath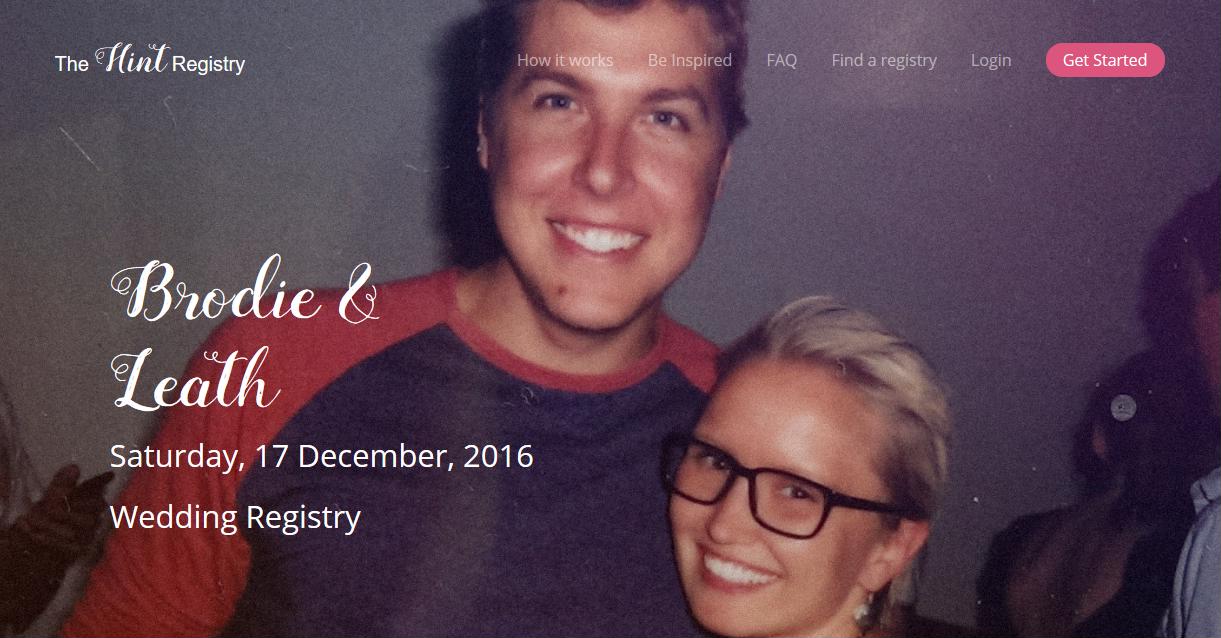 Looking for ideas to create an incredible wedding registry? To help you out, we are featuring some of our favourite registries created by couples using The Hint Registry.
First up is Brodie and Leath's registry. It's a standout with a wide range of gifts, thoughtful and fun descriptions and great use of images. We love this registry as it really reflects the couple and their fun, creative style.
Brodie says she and Leath didn't have a specific theme for their online wedding registry. 'The bottom line for us with our registry was that we don't really need anything, and as cliché as it sounds, the most important thing was... to be with our loved ones on our wedding day. However, people love to give gifts, which is amazing, and The Hint Registry gave us the opportunity to ask for things we'd really love and appreciate.'
It was important for Brodie and Leath that guests could make contributions towards experiences, since they lived together before they were married and didn't really need things. Their gift registry included contributions towards books purchased from Shakespeare and Co in Paris, champagne at the airport and tickets to a Broadway show.
Brodie says the couple 'wanted people to feel as though they were contributing to our honeymoon in a tangible way, which really made a difference to our experience whilst overseas.'
'While we travelled and experienced everything our friends and family had contributed towards, we really felt as though they were there with us and we'd been lucky enough to do everything we did, because of everyone's generosity.'
Brodie says 'We thought of our friends and family as we ate burgers après ski in Switzerland, had ice cream at Disneyland in Orlando, and bought books at Shakespeare and Company in Paris.' She says 'Using the Hint Registry allowed us to attach memories to specific people depending on what they'd given us.'
'Our registry was a way of being able to indulge on our honeymoon, and be thankful to our friends and family for contributing to those memories.'
In addition to the honeymoon experience gifts, the online registry included items for the couple's home and some options for donations to charity.
Brodie's top tip for couples creating a registry is to be as imaginative as possible.
'The beauty of The Hint Registry is that there are no limitations to what you can include, so go nuts! We felt it was a chance to ask for things we may not necessarily splurge on ourselves. It made the whole experience incredibly special.'
For more inspiration, check out Brodie and Leath's registry here!